Psalm 118: Put Your Trust in God
In the past week in our study of the
One Year Chronological Bible
, the Jews are getting close to going into exile. The prophets are warning them to repent, God is sending warnings, but they aren't listening. There is debate over the dating of this Psalm, but the Chronological Bible has placed it within this time period, after David, but before the exile.
One of the things that I love about the Psalms is that often they are a cry to God for deliverance, a prayer to him for the action the petitioner desires to see. Not only a praise to God, but a declaration of the good that God will do for them.
Praise God in Every Circumstance
It is a reminder that even dire and difficult circumstances, we are to proclaim God's goodness. This is what Paul and Silas did when they were thrown into prison for messing with someone's money maker by delivering the slave girl who was fortune telling under the influence of a demonic spirit. Her owners were mad, stirred up a mob against Paul and Silas, had them beaten and then thrown in prison. (Acts 16)
Paul and Silas had every reason to feel aggrieved. They had been preaching God's word, delivered a woman from spiritual bondage, and were wrongly beaten and imprisoned. They were doing exactly what God told them to do and this was the result. Rather than feeling sorry for themselves, what did they do? They praised God, while they were in prison, praising and worshiping him (Acts 16:25). It was in the middle of this that their supernatural deliverance came.
26 Suddenly, there was a massive earthquake, and the prison was shaken to its foundations. All the doors immediately flew open, and the chains of every prisoner fell off!
It was this, the supernatural deliverance of Paul and Silas, along with their concern for their jailer, that caused the jailer to want to follow Paul and Silas's God. It wasn't just Paul and Silas's response to their imprisonment … it was their God's powerful response. God showed himself powerful and delivered his own. This called the jailer to believe.
Psalm 118: God is Faithful
In Psalm 118, the writer does the same. He puts his hope in God for deliverance from his current circumstance and expresses his confidence that God will not let him down but will give him reason to praise God for his deliverance.
 1 Give thanks to the Lord, for he is good!
    His faithful love endures forever.

2 Let all Israel repeat:
    "His faithful love endures forever."
3 Let Aaron's descendants, the priests, repeat:
    "His faithful love endures forever."
4 Let all who fear the Lord repeat:
    "His faithful love endures forever."
The Message of Psalm 118: God Doesn't Change
This stanza is a reminder that God doesn't change. Just as he was faithful to his people in the past, he will be faithful again today.
5 In my distress I prayed to the Lord
and the Lord answered me and set me free.
6 The Lord is for me, so I will have no fear.
What can mere people do to me?
7 Yes, the Lord is for me; he will help me.
I will look in triumph at those who hate me.
8 It is better to take refuge in the Lord
than to trust in people.
9 It is better to take refuge in the Lord
than to trust in princes.
When trials of life come, it is easy to misdirect our focus, especially if we think we have had a word from God about a situation and it doesn't turn out in the way we expected. God has promised a particular outcome, we start to doubt and think we have to bring about the outcome through our own methods. We start planning our own ways and means, putting our trust in men rather than trusting in the goodness and faithfulness of God.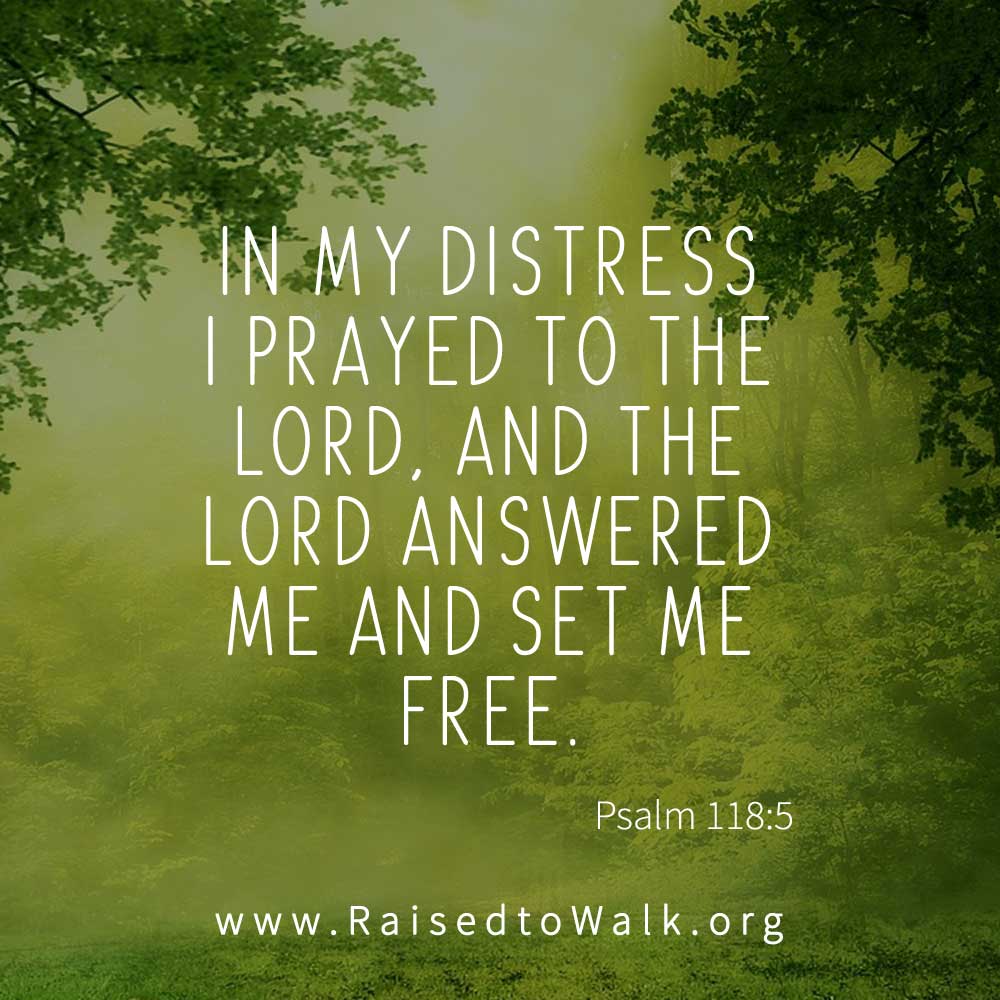 10 Though hostile nations surrounded me,
I destroyed them all with the authority of the Lord.
11 Yes, they surrounded and attacked me,
but I destroyed them all with the authority of the Lord.
12 They swarmed around me like bees;
they blazed against me like a crackling fire.
But I destroyed them all with the authority of the Lord.
13 My enemies did their best to kill me,
but the Lord rescued me.
In this, the writer acknowledges that his victory comes from God. This is a psalm of action, not one of passivity. We move forward, we trust in God for deliverance, and take action trusting that God is smoothing the path and prospering the works of our hands.
14 The Lord is my strength and my song;
he has given me victory.
15 Songs of joy and victory are sung in the camp of the godly.
The strong right arm of the Lord has done glorious things!
16 The strong right arm of the Lord is raised in triumph.
The strong right arm of the Lord has done glorious things!
In times of victory and prosperity, it is easy, as Nebuchadnezzar did, to fall into the trap of claiming the credit for that success. In everything you do, do not only acknowledge the Lord, but give credit for the success of the endeavor to the Lord.
17 I will not die; instead, I will live
    to tell what the Lord has done.
18 The Lord has punished me severely,
but he did not let me die.
When facing a challenge, whether it is a health issue that is literally challenging your life, a problem in relationships, or a financial issue … proclaim this verse "I shall not die, but live and proclaim the works of the Lord." This problem that you're facing is not going to get the better of you, you will be strong and courageous, you will overcome through the favor of God, and you will tell others the good things God has done for you.
19 Open for me the gates where the righteous enter,
and I will go in and thank the Lord.
20 These gates lead to the presence of the Lord,
and the godly enter there.
21 I thank you for answering my prayer
and giving me victory!
When God blesses us and gives us victory, we give glory to him.
22 The stone that the builders rejected
has now become the cornerstone.
23 This is the Lord's doing,
and it is wonderful to see.
The "stone that the builders rejected" is Jesus, the cornerstone. God story is one of life from death, victory from defeat. Regardless of the circumstance you're in, remember the God you follow. There is nothing that is impossible for God. (Luke 1:37, Matthew 19:26)
24 This is the day the Lord has made.
We will rejoice and be glad in it.
25 Please, Lord, please save us.
Please, Lord, please give us success.
26 Bless the one who comes in the name of the Lord.
We bless you from the house of the Lord.
When this psalm was written, the outcome had not been settled. The psalmist is calling on God to give success in their endeavors.
27 The Lord is God, shining upon us.
Take the sacrifice and bind it with cords on the altar.
28 You are my God, and I will praise you!
You are my God, and I will exalt you!
I love this verse. What is your "sacrifice." What has God blessed you with that you are returning as a sacrifice to give honor to him? As Paul writes to the Colossians, "whatever you do, work at it with all your heard, as working for the Lord," (Colossians 3:23) Whether you write, or teach, or work in a grocery store, each day say "take this sacrifice, bind it with cords on the altar. You are my God and I will praise you!"
Consider each day as being sent out by Jesus. What are you doing for him today?
29 Give thanks to the Lord, for he is good!
His faithful love endures forever.
When you experience trials or persecution, praise God. Believe in his goodness and that he is setting you in a "broad place." Call out to God, thank him for his salvation and put your hope in him. AS you step forward in action, thank God that is he the one who brings you victory.
---
This Bible study is part of the One Year Chronological Bible study which we completed in 2019.
---
Related Articles
Platonism at Stanford University: The section on the Stanford site that was a huge help to me when I was studying platonism
https://plato.stanford.edu/entries/abstract-objects/
https://plato.stanford.edu/entries/platonism/
Books Mentioned
Printable Bible Study Notes
Would you like a study guide to follow along with the video? Bible study notes are available to our Patreon subscribers as well as individually in the shop.
You are welcome to share with and print for your own study group; however, please do not sell or distribute these notes otherwise.
---
[We realize that people from across the world participate in the Bible studies and not every person and church has the same level of resources. If finances are an issue, please send an email to info [at] raisedtowalk.org with the titles of the Bible studies you would like notes for.)