Let's Stay in Touch!
We are continually putting out new resources for Christian thinkers and seekers.
Join our mailing list and get the inside scoop!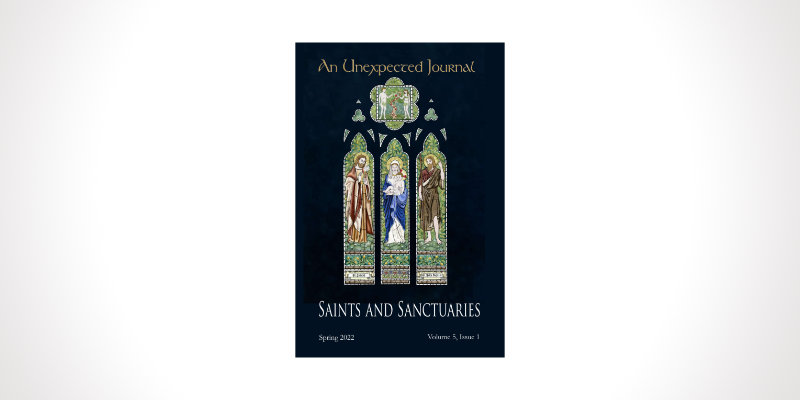 An Unexpected Journal: Saints and Sanctuaries
Every quarter, we publish a new issue of An Unexpected Journal, a journal devoted to cultural apologetics. For Spring 2022, we are discussing "
Saints and Sanctuaries.
" Why saints and why sanctuaries?
What is a Saint?
So what is a saint? Even in asking that question, we get into a little bit of the contention between Catholics and Protestants. For Catholics the remembrance of saints makes up a big part of their liturgical calendar. The determination of sainthood is the highest honor that the Catholic church grants its members.
Even though the U.S. is a strongly Protestant nation, we have remnants of this influence of saints in even our secular holiday calendar. Most of us all observe Valentines Day (even though we don't all realize this is  in memory of a saint), St. Patrick's Day, and it is a rare person that doesn't incorporate St. Nicholas (more commonly known as Santa Claus) in their Christmas holiday season.
The dictionary definition of the word "saint" is:
a person acknowledged as holy or virtuous and typically regarded as being in heaven after death.[1]
In our issue, we aren't debating the theological differences between Catholics and Protestants and how we understand what makes a saint or how we should remember them. Instead, we celebrate those people of faith who have run their race well.
What is a Sanctuary?
A sanctuary is 'a place of refuge or safety" or "a holy place, a temple, or church.[2]" We see examples of both of those definitions in the Bible. In the ancient Israel, six of the Levite cities were to be cities of refuge or sanctuaries. If a person killed someone, they could flee to a city of refuge for safety until their case could be judged. If the offender was found to have killed the person unintentionally, they went back to the city of refuge and lived their until the death of the high priest that was in office at the time of their offense. If they left the city of refuge, the family of the person killed could kill the offender without consequence.[3]
In the Old Testament, a sanctuary was 'a sacred place for divine service."[4] It was the place where God's presence dwelt among his people centered on the Ark of the Covenant. Beside the Temple in Jerusalem, Judaism identifies four other sanctuaries: the wilderness tabernacle. the tabernacle at Shiloh, the Tabernacle at Nob, and the Tabernacle at Gibeon.[5
We understand a sanctuary as a place of safety, a place of peace, and a place of rest. It is all of those things because God's presence is there. But now rather than God's presence being focused in a building, when we are in Christ, we are his sanctuary. This is the point of Paul's letters to the Corinthians when he admonishes them to leave their unrighteous acts behind. He writes in 1 Corinthians 3:16:
Read An Unexpected Journal: Saints and Sanctuaries
Interested in reading this book? Pick up your copy. Have you read it? Let me know your thoughts.
Don't you know that you yourselves are God's temple and that God's Spirit dwells in your midst? [NIV]
And then again in his next letter in 2 Corinthians 6:16
What agreement is there between the temple of God and idols? For we are the temple of the living God. As God has said:

"I will live with them

and walk among them,

and I will be their God,

and they will be my people." [NIV]
The Saints and Sanctuaries issue explore how those two things, the people and places, impact the world around us and how they intersect.
My Favorite Piece in An Unexpected Journal: Saints and Sanctuaries
So what is my favorite piece in An Unexpected Journal: Saints and Sanctuaries? I don't  normally pick a favorite, because our contributors as a whole submit such amazing pieces … but this time I have to. My favorite essay in the this issue is "Saints, Suffering, and Sanctuaries from Around the World: Japan, Korea, and China" by my friend, Seth Myers.
This is my favorite for two reasons. First, I think in the U.S. we sometimes have a warped perspective of what Christianity is and sometimes come off with an attitude as if Christianity originated in America and we own it … which couldn't be further from the truth. Because of our strong protections of freedom of religion in the U.S., we have had it easy. Someone unfriending you on Facebook because they don't like a post you made or health officials asking you to do church differently so we don't have continuous COVID super-spreader events that will end up with people dead is not persecution. (I have a lot to say about churches that don't think they need to care for their neighbor, but I'm not going there today.)
Our experience as Christians in the U.S. is not the experience of Christians in the majority of the world and we need to remember that. We have a lot of people who have made an idol out of their political positions, and not only is it idolatry, but it is straight up blasphemy.
It's time we got over ourselves, have a little humility, and recognize the sacrifices and actual persecution Christians in other areas of the world are enduring.
Seth's essay puts a spotlight on Christians in other countries who endure.
The second reason this is my favorite piece in the issue is that it led me to another book, Jesus in Beijing by David Aikman. Seth quotes extensively from Aikman's book in his essay. Halfway through editing Seth's essay, I had to stop and order Jesus in Beijing.
Where Can You Get a Copy of An Unexpected Journal: Saints and Sanctuaries?
Where can you get a copy of An Unexpected Journal: Saints and Sanctuaries? You can read the individual pieces online when the issues launches on March 9th. If you prefer the convenience of a book, whether that be print or digital, you can pick up a copy at most online booksellers. Amazon, Barnes & Noble, or at most online digital bookstores.
But if you enjoy the issues we publish at An Unexpected Journal, the best option is to subscribe.
Live Discussion with the Contributors to An Unexpected Journal: Saints and Sanctuaries
I will be cohosting a live launch party for An Unexpected Journal: Saints and Sanctuaries on Saturday, March 19th, from 2 pm to 6 pm CST on Facebook, YouTube, Twitch, LinkedIn, and Amazon Live. I hope you stop by for a chat.
Endnotes
[1] "Saint" (Oxford Languages, n.d.).
[2] "Sanctuary" (Oxford Languages, n.d.).
[3] Exodus 21:14, Exodus 21:13, Numbers 35:28, Joshua 20:7-8
[4] Judah David Eisenstein, "Sanctuary," Jewish Encyclopedia, accessed March 4, 2022, https://www.jewishencyclopedia.com/articles/13171-sanctuary.
[5] Judah David Eisenstein, "Sanctuary," Jewish Encyclopedia, accessed March 4, 2022, https://www.jewishencyclopedia.com/articles/13171-sanctuary