Let's Stay in Touch!
We are continually putting out new resources for Christian thinkers and seekers.
Join our mailing list and get the inside scoop!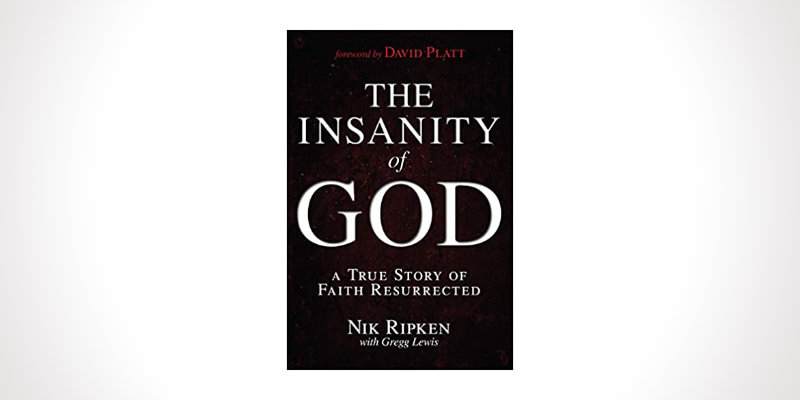 The Insanity of God Review
The Insanity of God
is available in several formats: paperback, Kindle, audio book as well as an audio CD. There is also a movie of the book. I have not seen it. I looked to see if it was available on Amazon Prime and didn't find it, but there is a DVD available. Let me know if you know if the movie is anywhere on demand.
Nik grew up in rural Kentucky, one of seven children, in a "Christianish" home, meaning his parents took him to church, but they didn't have much to do with it themselves.
On Easter in Nik's 11th year, the Gospel became real to him.
For the first time, I understood something of the price that Jesus paid for the sins of the world, and for me. I could imagine the deep despair the disciples must have felt after He died and his body was placed in a tomb.  What a dark day that Saturday must have been!  When the preacher finally got to the Easter-morning part of the story–the part about the rolled-away stone, the angel, the empty tomb, and the resurrected Jesus–something deep inside of me wanted to shout right out loud: "Hooray!" I felt like breaking into song just like the crowds in Jerusalem on Palm Sunday.[1]
He didn't understand why other people didn't seem to have the same response. He wrote:
How in the world was it that these people managed to be so much more excited about what happened at a high school football field on Friday nights than they did about the resurrection of Jesus at church on Easter Sunday morning?[2]
One day as he was working the night shift at a Kraft Food cheese factory during his senior year in high school, he received a call from God, like Samuel in the Temple. This changed the course of his life. He gave up his plans to be a veterinarian and decided to go into ministry.  He gave up his scholarship to the University of Kentucky and attended a Bible college. He changed his planned major to history and religion.
He met his wife, Ruth, in college and eventually they made their way to the mission field in Malawi. They were there for a year, but had to cut their term short because the whole family caught malaria. They then went to serve in South Africa, and later were called to serve in Somalia in 1992.  Nik wrote of his arrival:
Within minutes of my arrival there, I was aware that I had never been, or even imagined any place that felt as oppressed as this.[3]
Part of the book covers their experiences in Somalia and the challenges they faced in serving the people. He writes about how often it seemed like their work was fruitless, and like they were not making a difference at all. Then their family experienced a tragedy and they returned to the U.S. for a furlough.
Afterward, Nik struggled with the question, how does the church survive and operate in the middle of such persecution. He began a research mission, visiting countries that were among the most hostile to the Christian faith. And that is what the remainder of the book is about: what he found, and how the church not only survives in the middle of persecution, but grows and thrives.
The Price of Individualism
One of the challenges faced by the Ripkens in Somalia was that very often the help and supplies from foreign aid were stolen or destroyed, or violence started over it.  When Nik asked why this was so, a Somali told him their philosophy:
I wondered how people could be so callous. When I expressed my frustration, one of my national staff recited a Somali saying that he had heard all of his life. Sadly it explained a lot:

I and Somalia against the world; I and my clan against Somalia; I and my family against my clan; I and my brother against my family; and I against my brother.[4]
What insight does this give to mission efforts, and also what parallels can we see in the U.S. society today to this philosophy?
Read The Insanity of God
Interested in reading this book? It is available on Amazon. Have you read it? Let me know your thoughts.
The Great Commission
When Nik became a Christian, he said "I saw no separation or distinction between accepting Christ and surrendering my whole life to Him to do what He wanted me to do.[5]"
Many within our faith community applauded our hearts but questioned our wisdom. 'It's too dangerous!" we were told by people who loved us. When we pointed out that Jesus commanded His followers to go into 'all the world'—not only into all 'the safe places in the world,' they reluctantly agreed to let us explore the possibility.[6]
This "all in" mindset got him in a little trouble with people who believe that only "certain" people are called to spread the Gospel and it almost cost him his first mission appointment.  He wrote.
When they asked me the same question about when I had received my call, I looked around the meeting room and simply said, "I read Matthew 28." … When I share this with churches today, I often suggest that people read Matthew 28. When I read that chapter, I notice that Jesus never says if or whether you go: He simply talks about where you go! God may have to give instructions about the location—the where. But there is nothng to negotiate about the command to go—God has already made our primary task perfectly clear. When I tried to explain that to the appointment committee in 1983, I just about ended our appointment process on the spot.[7]
What would it look like if we all took Matthew 28 to heart?
National Personality
Considering the war between the Ukraine and Russia today, one thing I thought was interesting was Ripken's account of his experience in Russia versus that in the Ukraine. When you read the book, there is a stark difference in Ripken's reception by the people in the two countries. In Russia, Ripken writes:
It seemed that everyone was aware of me.  Rather than staring openly, however, they glanced at me furtively out of the corner of their eyes. The instinctive wariness of the people seemed to me more symptomatic of a worn and weary sadness of soul than any real hostility. However, that first exposure to the psyche of the Russian public made me wonder what, if anything, I would learn from my interviews which were scheduled for the following day.[8]
Then on Ukraine
The spirit of the Ukrainian people was such a contrast to what I had seen in Russia that I noticed the difference as soon as I deplaned in Kiev. The people working in the airport and in the hotel were openly gracious and helpful. Where the Russian people had seemed shackled to a past that they weren't certain was gone for good, the Ukrainians that I met seemed to relish a newfound sense of freedom with high hopes for a better future. They walked with heads up and a spring in their step. They made eye contact and smiled when I passed them on the streets. The people I interviewed weren't just willing, but rather anxious, to tell me about the impact of communism on their faith and to share their renewed hopes and dreams for the future.[9]
When I read this, it made me think that this difference is really at the core of the conflict today. Putin is just as corrupt and just as much of an authoritarian as any Soviet dictator. He is keeping his hold on power, I think, because the Russian people really don't believe that it can be any different.
Cindy Bushman, who discussed the book with me in a livestream, was struck by the differences between Russian, Ukrainian, and Chinese Christians. Nik Ripken noted that the Chinese stood out because of their joyfulness, with some even joking about their torture.
Believers in China exhibited a constant joyfulness in the midst of harsh circumstances. I never heard them deny it or down-play the danger … [Pastor Chang's] students didn't merely accept the potential cost of their commitment to Christ, they embraced what they considered the adventure of following Jesus.[10]
The Call to All Christians
The stories in The Insanity of God can be encouraging to Christians. The stories of Christians holding to and practicing their faith under severe persecution show us what a faith that stands look like.
The book should also cause each of us to ask ourselves how we are personally taking part in the Great Commission. Jesus said to "make disciples." What is your part in God's plan?