These three psalms each speak of the righteousness and justice of God and particularly on the importance of integrity.
Podcast (rttp): Play in new window | Download | Embed
Subscribe: Apple Podcasts | Google Podcasts | Spotify | Amazon Music | Android | iHeartRadio | Stitcher | Podchaser | Email | Deezer | RSS | More
Psalm 1
1 Oh, the joys of those who do not
follow the advice of the wicked,
or stand around with sinners,
or join in with mockers.
2 But they delight in the law of the Lord,
meditating on it day and night.
3 They are like trees planted along the riverbank,
bearing fruit each season.
Their leaves never wither,
and they prosper in all they do.
4 But not the wicked!
They are like worthless chaff, scattered by the wind.
5 They will be condemned at the time of judgment.
Sinners will have no place among the godly.
6 For the Lord watches over the path of the godly,
but the path of the wicked leads to destruction.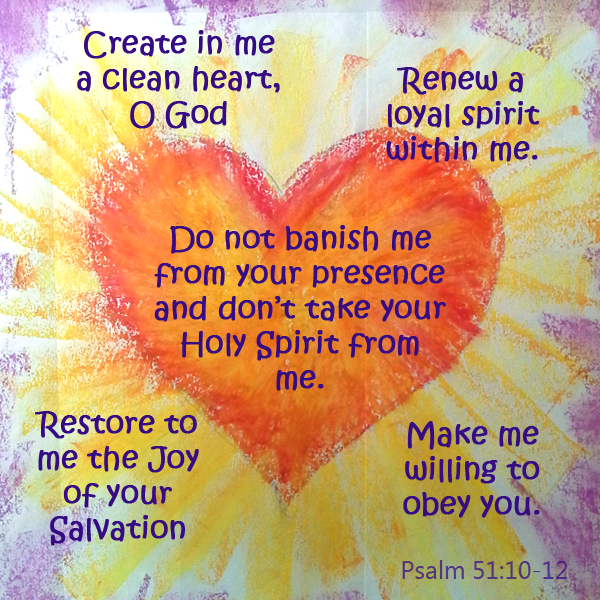 Psalm 51
1 Have mercy on me, O God,
because of your unfailing love.
Because of your great compassion,
blot out the stain of my sins.
2 Wash me clean from my guilt.
Purify me from my sin.
3 For I recognize my rebellion;
it haunts me day and night.
4 Against you, and you alone, have I sinned;
I have done what is evil in your sight.
You will be proved right in what you say,
and your judgment against me is just.
5 For I was born a sinner—
yes, from the moment my mother conceived me.
6 But you desire honesty from the womb,
teaching me wisdom even there.
7 Purify me from my sins, and I will be clean;
wash me, and I will be whiter than snow.
8 Oh, give me back my joy again;
you have broken me—
now let me rejoice.
9 Don't keep looking at my sins.
Remove the stain of my guilt.
10 Create in me a clean heart, O God.
Renew a loyal spirit within me.
11 Do not banish me from your presence,
and don't take your Holy Spirit[d] from me.
12 Restore to me the joy of your salvation,
and make me willing to obey you.
13 Then I will teach your ways to rebels,
and they will return to you.
14 Forgive me for shedding blood, O God who saves;
then I will joyfully sing of your forgiveness.
15 Unseal my lips, O Lord,
that my mouth may praise you.
16 You do not desire a sacrifice, or I would offer one.
You do not want a burnt offering.
17 The sacrifice you desire is a broken spirit.
You will not reject a broken and repentant heart, O God.
18 Look with favor on Zion and help her;
rebuild the walls of Jerusalem.
19 Then you will be pleased with sacrifices offered in the right spirit—
with burnt offerings and whole burnt offerings.
Then bulls will again be sacrificed on your altar.
Psalm 101
I will sing of your love and justice, Lord.
    I will praise you with songs.
2 I will be careful to live a blameless life—
    when will you come to help me?
I will lead a life of integrity
    in my own home.
3 I will refuse to look at
    anything vile and vulgar.
I hate all who deal crookedly;
    I will have nothing to do with them.
4 I will reject perverse ideas
    and stay away from every evil.
5 I will not tolerate people who slander their neighbors.
    I will not endure conceit and pride.
6 I will search for faithful people
    to be my companions.
Only those who are above reproach
    will be allowed to serve me.
7 I will not allow deceivers to serve in my house,
    and liars will not stay in my presence.
8 My daily task will be to ferret out the wicked
    and free the city of the Lord from their grip.
These passages are taken from the New Living Translation Bible (NLT.)