Podcast: Play in new window | Download | Embed
Subscribe: Apple Podcasts | Google Podcasts | Spotify | Amazon Music | Android | iHeartRadio | Stitcher | Podchaser | Email | Deezer | RSS | More
Many of us are familiar with the verse, 1 Thessalonians 5:19, "Quench Not the Spirit;" however, not everyone will agree on what it means.  There are a few guidelines one should follow when interpreting a passage of Scripture.
The first guideline is to read it in context.  Not only in the context of the entire passage, but also in the context of to whom it was written as well as when.
God's Word stands forever and it is as true and relevant for us today as the moment it was written.  It is also true that there are layers of meaning to Scripture.  Those layers, however, do not negate the most simple and obvious interpretation.
So what is the context of that passage?
Context of 1 Thessalonians
This letter was written to the church at Thessalonica by Paul and it is one of his earliest letters.  It is dated around 51 AD and was written from Corinth.  It is primarily a letter of encouragement to the young church there and clarified a few points they were confused about regarding Christ's Second Coming (that is still a point of confusion for many)  and the importance of being ready at all times.
The final chapter, chapter 5, begins with a warning to always be ready for Christ's return for it will come suddenly.  Then the next section of verses talks about how they should behave and handle themselves as Christians.
If someone was a new Christian and learned nothing else except for these next 10 verses, they would be doing pretty well.
12 Dear brothers and sisters, honor those who are your leaders in the Lord's work. They work hard among you and give you spiritual guidance. 13 Show them great respect and wholehearted love because of their work. And live peacefully with each other.

14 Brothers and sisters, we urge you to warn those who are lazy. Encourage those who are timid. Take tender care of those who are weak. Be patient with everyone.

15 See that no one pays back evil for evil, but always try to do good to each other and to all people.

16 Always be joyful. 17 Never stop praying. 18 Be thankful in all circumstances, for this is God's will for you who belong to Christ Jesus.

19 Do not stifle the Holy Spirit. 20 Do not scoff at prophecies, 21 but test everything that is said. Hold on to what is good. 22 Stay away from every kind of evil.

1 Thess 5:12-22
The letter then ends with Paul commending them to God and asking them to pray for him and each other.
The Holy Spirit and Discerning of Spirits
Reading the verse in context of the rest of the passage, particularly examining the verses it follows which is all about the Second Coming and being prepared for the return of Jesus, it is very obvious that the operation and guidance of the Holy Spirit is a primary key in the ability to do that.
Do not stifle (quench) the Holy Spirit – Do not deny the gifts of the spirit. (1 Corinthians 12:31)
Do not scoff at prophecies – God does speak to and through his people.  He is a personal God who wants a personal relationship.
Test everything that is said – We have to have discernment and good judgment, and the discerning of spirits through the guidance of the Holy Spirit plays the primary role in that.
Hold on to what is good.  Stay away from every kind of evil. – Sometimes we think this is obvious, but very often it is not.  Sometimes, the biggest danger is what we "think" is good.
"Your eye is a lamp that provides light for your body. When your eye is good, your whole body is filled with light.23 But when your eye is bad, your whole body is filled with darkness. And if the light you think you have is actually darkness, how deep that darkness is!"  Matthew 6:22-23 NLT
The Holy Spirit Teaches
Being led by the Holy Spirit is a key component to growing in the Christian walk.  Jesus said that when the Holy Spirit came, He would guide us into all truth.  (John 16:13)
If we quench or stifle his work in our lives, our "life" in Christ will be dead, powerless, empty and false.
Again in 2 Timothy chapter 3, Paul warns Timothy about the dangers of End Times deception and pairs it with denying the move of the Holy Spirit:
You should know this, Timothy, that in the last days there will be very difficult times. 2 For people will love only themselves and their money. They will be boastful and proud, scoffing at God, disobedient to their parents, and ungrateful. They will consider nothing sacred. 3 They will be unloving and unforgiving; they will slander others and have no self-control. They will be cruel and hate what is good. 4 They will betray their friends, be reckless, be puffed up with pride, and love pleasure rather than God. 5 They will act religious, but they will reject the power that could make them godly. Stay away from people like that!  2 Timothy 3:1-5 NLT
 The Holy Spirit Corrects
The passage above illustrates another way we can "quench the Spirit."  The Holy Spirit not only empowers, but he corrects. The Holy Spirit is the power that makes us godly.  His purpose is to carry out the will of God by working in our lives, purging out the evil (Psalm 51:10-12) and transforming us (Romans 12:2)  so we become more and more like Christ.
33 "No one lights a lamp and then hides it or puts it under a basket. Instead, a lamp is placed on a stand, where its light can be seen by all who enter the house.

34 "Your eye is a lamp that provides light for your body. When your eye is good, your whole body is filled with light. But when it is bad, your body is filled with darkness. 35 Make sure that the light you think you have is not actually darkness. 36 If you are filled with light, with no dark corners, then your whole life will be radiant, as though a floodlight were filling you with light."  Luke 11:33-36 NLT
God, through the Holy Spirit, is the only one that can transform us.  We can't do it on our own or on our own power.  It is only by humbling ourself before God and submitting to Him that it can happen.
But he won't do it unless we ask him to.  And if we refuse that help, if we quench the spirit by ignoring the gentle conviction . . . we are denying the only power that can save us.
The Holy Spirit Comes in Power
The Book of Act opens with an introduction by Luke and an account of Jesus's final words to his followers, which include the following:
"But you will receive power when the Holy Spirit comes upon you.  And you will be my witnesses, telling people about me everywhere – in Jerusalem, throughout Judea, in Samaria, and to the ends of the earth.  Acts 1:8 NLT
If you read through the Gospels, one thing that you will note is that Jesus didn't just go through Israel talking.  He spoke and his words were confirmed by signs and wonders.  His authority was confirmed by the power of the Holy Spirit when he healed the sick, cast out demons, and raised the dead.
And he told his disciples that they would do greater works that he did. (John 14:12)
And they did.
Read the Book of Acts.  There is story after story of miraculous signs and wonders, lame walking (Acts 3:1-11,) people one place at one moment and then translated somewhere else in the next (Acts 8:26-40,) angels showing up (Acts 12:9,) and demons being cast out (Acts 16:16.)    If it were a movie, critics would say the story line was too fantastical.
We are to have faith, but God never asks us to have blind faith.  We are to test everything for truth and since God has shown himself faithful (Psalm 136 and the entire rest of the Bible,) we know we can trust him to carry through on the rest.
We are without excuse.
30 The God of our ancestors raised Jesus from the dead after you killed him by hanging him on a cross.  31 Then God put him in the place of honor at his right hand as Prince and Savior. He did this so the people of Israel would repent of their sins and be forgiven. 32 We are witnesses of these things and so is the Holy Spirit, who is given by God to those who obey him."  Acts 5:30-32 NLT
The Holy Spirit comes in power to those who obey him and provides evidence and proof of God's word.
The Holy Spirit Doesn't Push
But God is always about permission.  He gave us free will and even after we come to Christ, he still respects that.
If you don't want the gifts of the spirit operating in your life . . . don't worry, he won't push it.
If you aren't interested in cleaning out the dark corners of your life and mind, he won't sweep it out unless and until you ask him to.
And if you aren't open to the power of the Holy Spirit . . . the power that Jesus and Peter and Paul walked in . . . the power that raised Jesus from the dead (Romans 8:11) . . . don't worry, he won't force that on you either.
When the Spirit is Quenched
I just experienced a quenching.
Last night, someone in my Power Prayer class was in a lot of pain from a pinched nerve.
I knew the pastor would pray for her, and not only would he pray for her but that he would expect her to actually be healed.  I also knew that the person was open to receiving that healing by God.
As soon as she said it, I knew the Holy Spirit was just waiting to heal her.  I could feel it.
The pastor had everyone in the class (small class, but still) go to pray for her.  A couple of us prayed for the pain to go.
I could feel the Holy Spirit . . . totally feel it.
Then someone started praying, and it was obvious that they thought we shouldn't be praying assertively for her healing.  Their prayer was along the lines of  "if it's your will, heal her, if you need to use the doctors."
At this point, I'm not praying for the person who needs healing anymore, I'm praying for this person.
I felt like saying, "Dude . . . "IF" nothing . . . it IS God's will . . . READ IT."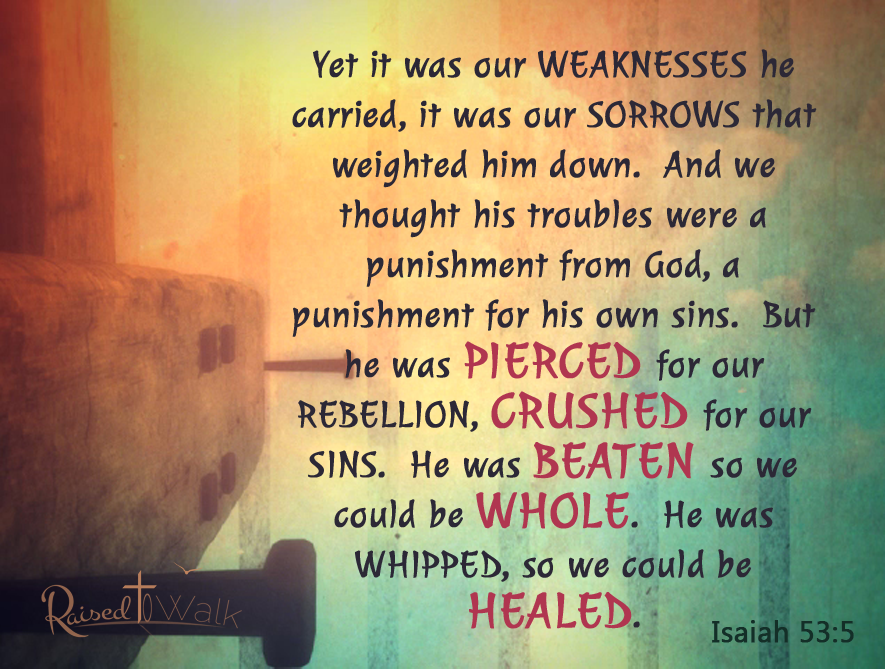 Jesus was whipped to the point of death, 39 lashes, so we can be healed.  It covered every sickness and disease and I think pain was covered with the first lash.
As this person was praying, the presence of the Holy Spirit left  . . . totally quenched.
The pain did decrease a little bit after that, but I think there was just too much unbelief and resistance on the part of at least one person for a full healing.
Afterwards, when that person wasn't there, we prayed again for her.   Then it went.
It reminded me of something Pastor McGowen said once, "Jesus could only do minor miracles in his hometown because they were so closed with unbelief."  (Matthew 13:58, Mark 6:5)  Then he said, "If Jesus couldn't, what makes you think you can."

One of the most powerful tools of the enemy is unbelief. Click to tweet
---